Borsoi new approach 'From Bale to Box' applied for the furniture industry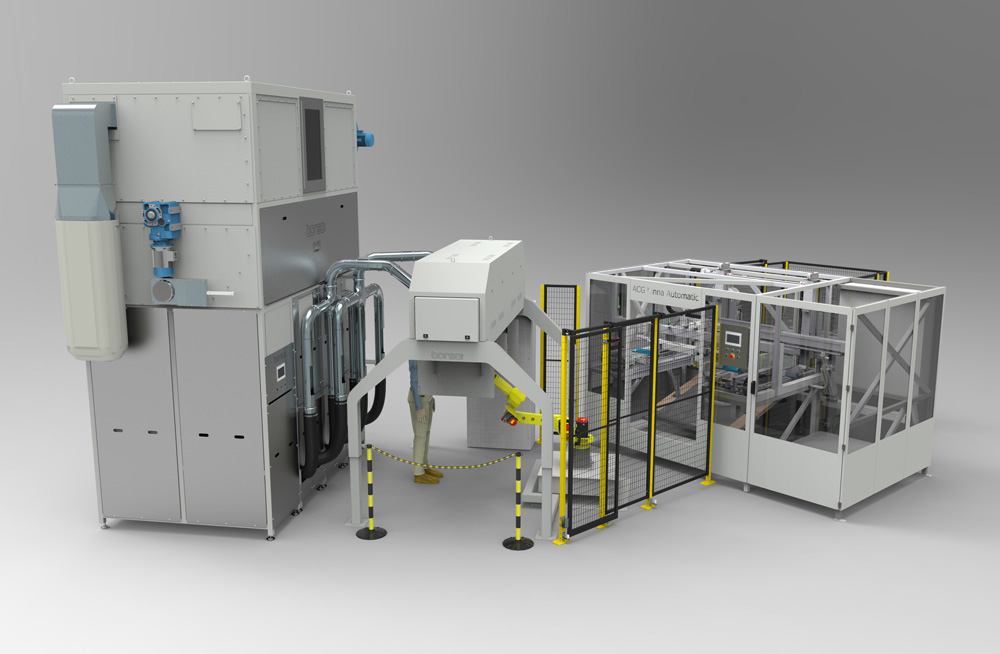 Last January BORSOI exposed the first live demonstration of the "From Bale to Box" approach during the 2019 Heimtextil fair in Frankfurt. After few months we are ready to present the first example of the new manufacture approach applied to the furniture industry, at Interzum in Koln (May 21-24, 2019).
Again, under the motto "From Bale to Box", BORSOI is teaming up with fellow specialist in textile machinery ACG Kinna Automatic (Skene, Sweden) and carding line supplier CCS (Card Clothing and Services) Huntley – Illinois: the three companies are combining more than 150 years of textile machinery know-how into fully-engineered automated solutions for pillows, quilts and mattress pad production.
From bale to box approach combined with ALAN COVER
During Interzum in Koln BORSOI is going to present the multi-chamber sofa cushion automatic pre-weighing and filling solution, together with the newest development called ALAN COVER. This system allows automatic insertions of filled cushions and padded pillows into the cover. The integration of this activity is considerable because nowadays it is done mainly by hands, using multiple operators, with high costs.
Thanks to the newest BORSOI ALAN COVER, it's possible to perform such task in a completely automatic way, and the process takes much less time (one quarter, compared to the previous way). Once again BORSOI introduces an automatic solution for improving the efficiency of a time and manpower consuming task.
ALAN COVER – technical details
The BORSOI ALAN COVER can be used in the mattress production line too, a product line that BORSOI is already covering by designing and producing new production line for mattress top manifacture. The system permits to process the widest product range in the market – mattresses, padded pillows, filled cushions – with sizes up to 2500mm in width and 30mm in thickness.
"Furniture business is still based on manual production processes in order to manage the high flexibility requirements and the small batch size. Once again BORSOI developed an automatic solution that permits to satisfy such needs by adding all the advantages of the most recent automation innovation. This was possible only by combining our knowledge, expertise and technical competences with an open book discussion with some key players in the field. Talking openly with customers or potential ones is always crucial in BORSOI policy, for providing the most suitable solution and satisfying the industry needs." – BORSOI Global Sales Manager Marco Bottecchia.
BORSOI, ACG KINNA Automatic and CCS will be also present at the next coming ITMA in Barcelona, Spain (June 20-26) with other cutting edge 'From Bale to Box' demonstrations.
Copyright 2022 Borsoi Srl - P.iva 04694270267