Home Textile business and the new 'From bale to box' approach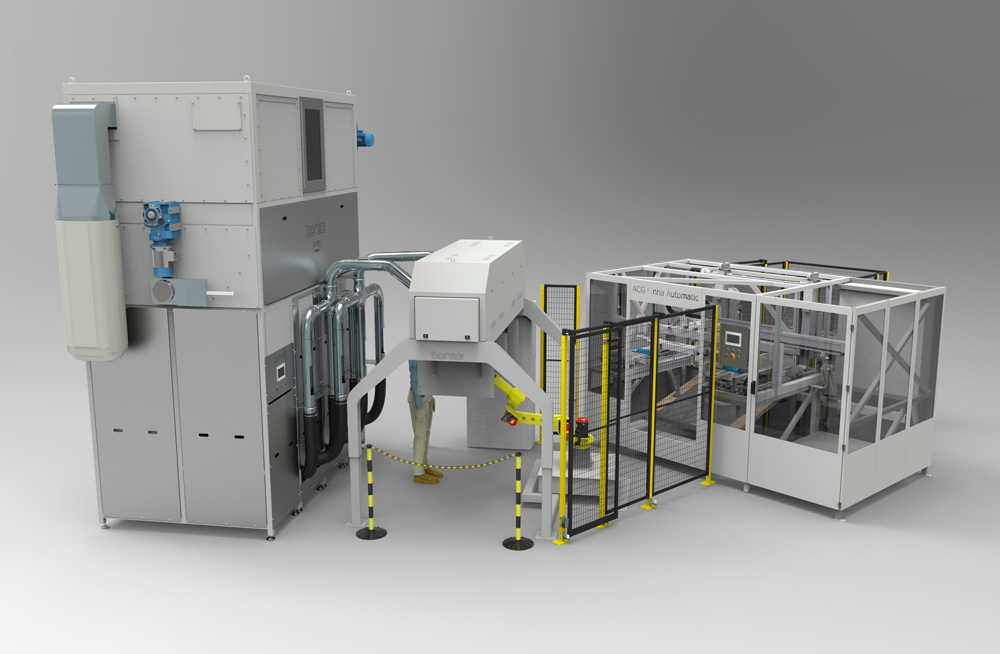 From bale to box is the new approach BORSOI has presented during last Heimtextil exhibition in Germany. Here we give the details about technicalities.
From bale to box approach technical details
BORSOI presented a dramatic live demonstration of its fully automatic new pillow filling line that has the ability to fill and finish some 3,840 pillows per eight-hour shift starting from the PS fiber bale opening till a finished product by using a single operator. This is a considerable improvement on what is currently possible with either manual or semi-automatic systems, resulting in significant savings in both labor and energy for busy home textile businesses. The technology is based on two robotic arms from Japan's Fanuc, the world's biggest robotic brand, which have been specially modified by BORSOI with advanced gripping tools.
The partnership design behind 'From Bale to Box'
For the first time in history of home textile business an overall solution for producing a specific finished product – like sleeping and deco pillows, quilts and mattress pads – is given by just one technology provider.
In fact, under BORSOI's motto 'From Bale to Box' there's more to know, and it's deeply related to the long term partnership strategy.
BORSOI is teaming up with fellow specialists in textile machinery such as ACG Kinna Automatic, (Skene, Sweden), and carding line supplier CCS – Card Clothing and Services (Huntley, Illinois). These three companies are combining more than 150 years of textile machinery know-how into fully-engineered automated solutions for pillows, quilts and mattress pad production.
Early goals of 'From Bale to Box' pillow line
"The use of robotics, intelligent sensors and intelligent production supervisors are now standard across many industries dealing in solid goods, but the handling of soft materials such as textiles is a little more complex. Nevertheless, the 'From Bale to Box' pillow line is now fully available for commercial shipment and the line that we demonstrated at Heimtextil was quickly sold" said Marco Bottecchia, Global Sales Manager of BORSOI.
In the 'From Bale to Box' solutions, automation and flexibility are taking a new shape for granting the most effective Total Cost of Ownership to all our customers in very different production environment and finished products.
In 2019 BORSOI, ACG KINNA Automatic and CCS will be present with other 'From Bale to Box' demonstrations at the next coming Interzum in Koln, Germany (May 21-24) and at ITMA in Barcelona, Spain (June 20-26).
Copyright 2022 Borsoi Srl - P.iva 04694270267